Top Trending Leather Jackets for Women This Winter 2023
As the winter season approaches, fashion enthusiasts eagerly await the latest trends in outerwear to make a stylish statement. One timeless and versatile piece that never goes out of fashion is the leather jacket. This winter of 2023, the world of women's fashion has witnessed a revival of leather jackets with innovative designs and modern twists. In this blog post, we will explore the top trending leather jackets for women that are set to dominate the fashion scene this winter.
1. Oversized Biker Jackets:
Oversized biker jackets are making a strong comeback this winter. These jackets combine the edgy appeal of the classic biker style with a relaxed, slouchy fit. Made from high-quality leather, they exude a cool and effortless vibe. Whether paired with jeans, dresses, or skirts, oversized biker jackets provide a chic and comfortable outer layer for any winter outfit.
2. Shearling-Lined Jackets:
When the temperature drops, shearling-lined leather jackets are a must-have. The plush shearling lining adds a cozy and luxurious touch while providing insulation against the cold. These jackets come in various styles, from classic aviator jackets to sleek moto designs. With their combination of warmth and style, shearling-lined jackets are perfect for both casual and dressed-up winter looks.
3. Cropped Leather Jackets:
For a modern and trendy look, cropped leather jackets are a popular choice this winter. These jackets typically end at the waist or just above it, accentuating the waistline and creating a flattering silhouette. They can be found in various cuts and colors, allowing for versatile styling options. Cropped leather jackets pair well with high-waisted jeans, skirts, or dresses, making them a go-to piece for both day and night.
4. Fringed Leather Jackets: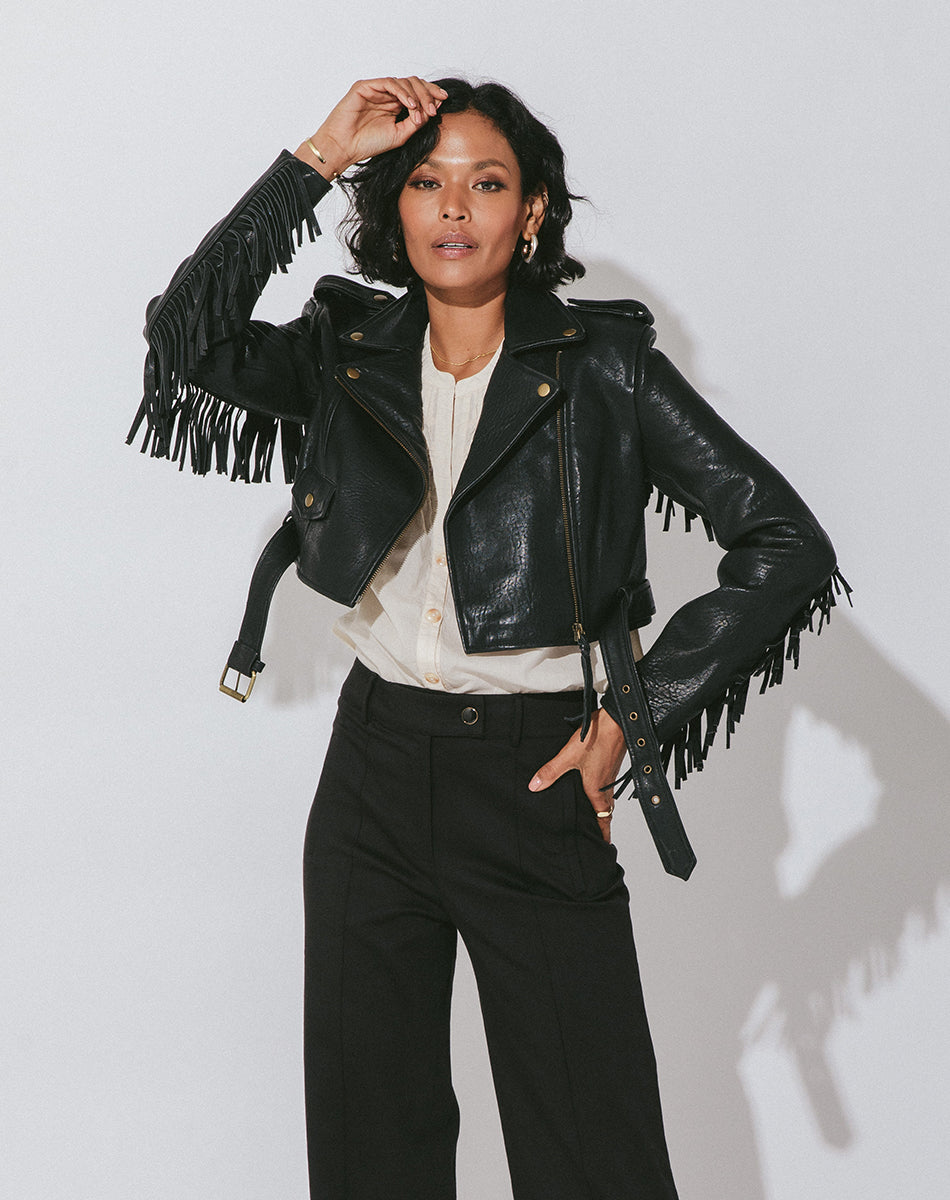 Fringes have been making waves in the fashion industry, and this winter, they have found their way onto leather jackets. Fringed leather jackets add movement and playfulness to any outfit, instantly elevating your winter style. Whether the fringes are long and dramatic or subtle and delicate, these jackets exude a bohemian and free-spirited vibe, making them a standout choice for those who dare to be different.
5. Belted Leather Jackets: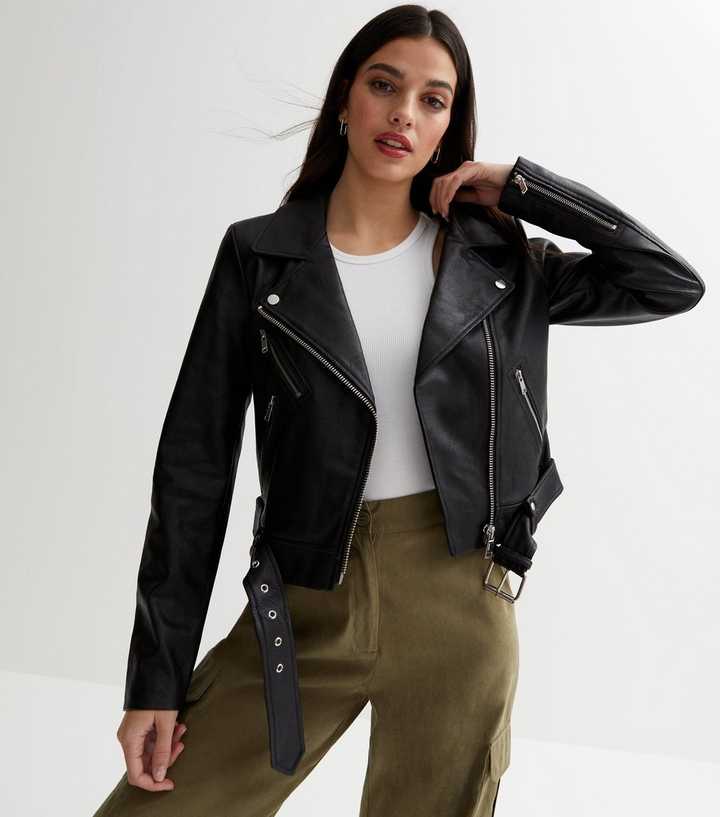 Emphasizing the waistline and creating a feminine silhouette, belted leather jackets are gaining popularity this winter. These jackets feature a built-in belt or a detachable one that cinches the waist, adding a touch of elegance and sophistication. Belted leather jackets come in various lengths and styles, allowing you to choose the one that best suits your personal taste and body shape.
6. Colorful Leather Jackets:
While classic black leather jackets remain a staple, this winter introduces a burst of color to the leather jacket trend. Vibrant hues like deep red, rich burgundy, emerald green, and royal blue are making a statement in the fashion world. These colorful leather jackets allow women to express their individuality and inject a pop of personality into their winter wardrobes. Pair them with neutral tones or contrasting shades to create a bold and eye-catching ensemble.
7. Quilted Leather Jackets:


Quilted leather jackets provide a unique and stylish twist to traditional designs. The quilted patterns add texture and depth, making these jackets stand out from the crowd. With their combination of warmth and fashion-forward appeal, quilted leather jackets are perfect for braving the winter chill while staying on-trend.
Conclusion:
This winter of 2023 is all about embracing the versatility and timeless appeal of leather jackets. From oversized biker jackets to shearling-lined designs, cropped styles to fringed statements, there is a leather jacket to suit every fashion taste and preference. Whether you opt for classic black or experiment with bold colors, these jackets will undoubtedly elevate your winter outfits and keep you warm in style. So, don't miss out on the opportunity to rock one of the top trending leather jackets for women this winter and make a fashion statement that is both chic and timeless.